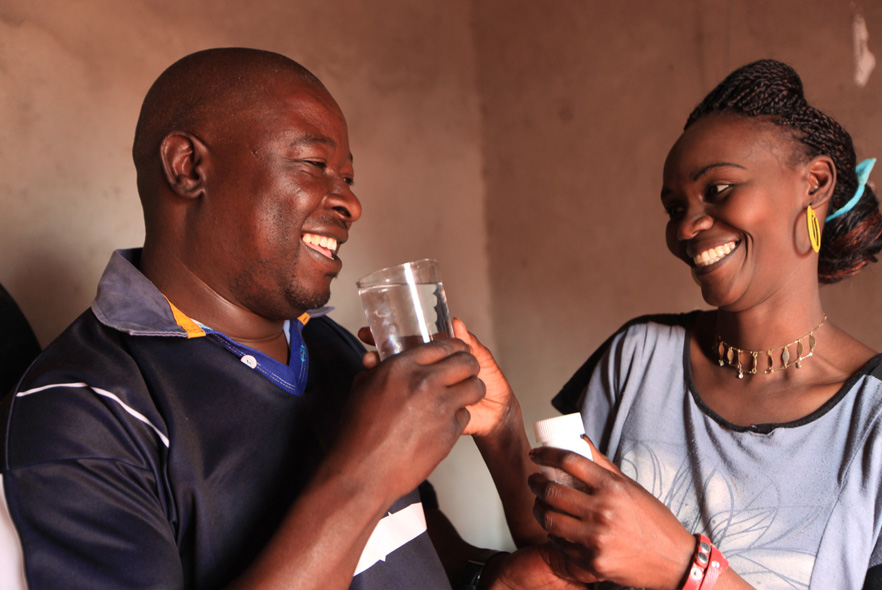 It has been twenty years since Antiretroviral Therapy (ART) transformed HIV/AIDS from a terminal to a chronic disease, globally. In 2001, a record-high of 160,000 people died from HIV and AIDS in Zimbabwe (UNAIDS reports). Since 2004, the country has scaled up availability of ART in all public health institutions, bringing hope for longer survival with HIV. HIV related mortality has been on a steep fall from 89,000 in 2005, to 31,902 in 2014 (MOHCC Annual Report, 2014). This has provided evidence that the use of combination drug therapies (Antiretroviral) can significantly improve HIV patients' chances for long-term survival. With adequate and continuous treatment, it has become possible for People Living with HIV (PLHIV) to be well and have 'undetectable' viral levels.
However, the effectiveness of ART can be markedly reduced by the emergence of drug resistance.
What is drug resistance?
Drug resistance refers to the ability of some microorganisms, including viruses like HIV, to adapt so they can survive and multiply in the presence of drugs that would normally weaken or kill them. For HIV, drug resistance exists when the virus can multiply in the presence of one or more ARV drugs. This is because HIV changes, or mutates, slightly every time it reproduces itself. Some of these mutations are in the part of the virus that is targeted by ARVs and can mean that the drugs will not work as well against some strains of the virus.
Why is it important to adhere to treatment?
While the Ministry of Health and Child Care (MOHCC) and its partners are working to ensure that ARVs are available, accessible and affordable, there is a need for ART clients to always adhere to their treatment. Adherence refers to taking the drugs as prescribed. This ensures adequate and effective levels of the drug in the blood. If drug levels are inadequate, HIV virus that is resistant to one or more of the drugs can survive and multiply.
When a client on ART develops drug resistant HIV, they would need to be switched to the second line regimen, which may be more expensive and not easy to access. At population level, associated risks include the spread of drug resistant virus that may require more resources to manage.
How best to adhere to treatment?
Adherence Tips
Follow instructions of your health care provider.
Do not share your medication with anyone (adult or child) as doing so affects the quality of treatment.
Always check with your health care provider before taking other treatment or medicines.
Seek adherence support from a treatment buddy-a   family member or friend, or through a treatment support network.
Successful treatment of HIV therefore requires unwavering commitment from ART clients to take their medication as prescribed by their health care professionals. Good adherence includes taking all the doses at the right time, in the right amount, and in the right way (for example, taking with food as instructed).
It is also important to note that ART is for life, once initiated, a client is expected to take ARV medicines for the rest of his/her  life, and in order to enjoy the health benefits of being on treatment. When feeling better, one cannot stop taking ARVs, as the medicines' function is to supresses the HIV virus in the body. If a client stops taking their ARVs, the HIV virus will start to multiply, and in many cases, may fail to be suppressed by the ARV combination that the client was taking before treatment interruption.
A worrying cause that has led some clients to stop treatment has been the side effects associated with ARVs. If side effects become too difficult to manage, it is important that clients approach their health professionals, who can provide proper guidance and ensure that no one drops out of their HIV care.
Parents and Caregivers supporting Children living with HIV
Parents and care givers have a responsibility of ensuring that their children are tested for HIV and disclosure of HIV status is a key step to promote adherence to HIV treatment. After discussing with the health care provider, it is crucial that parents and caregivers inform children about their HIV positive status, emphasise why they need to take their medication every day and support their children on treatment. In addition, health professionals will provide the necessary counselling to both the child and the caregiver/parent to cope with treatment, as well as refer children for pyscho-social support, where they can interact with peers and experienced counsellors and gain more knowledge and skills to cope with treatment.
Adolescents need our support to cope with treatment
Despite the decline in the number of HIV and AIDS-related deaths among the general population, UNAIDS reports that more deaths are being recorded globally, among the adolescent population (10-19 years). Many children living with HIV who enter adolescence are struggling to adhere to long-term therapy, as they experience critical life and hormonal transitions.
Within the Zimbabwe health delivery system, adolescents are considered a key population that has special needs and expectations as they go through HIV treatment. Of equal importance is the role of parents and families in providing moral, financial, spiritual and psycho-social support to the adolescents on treatment.
Routine monitoring of client's response, key to retaining them in care
As a lead partner to the MOHCC, the Organization for Public Health Interventions and Development (OPHID) and the U.S. Agency for International Development (USAID), with funding from the United States President's Emergency Plan for AIDS Relief (PEPFAR), are supporting the provision of quality HIV Care and Treatment services. This support covers 22 high-burden districts and 22 hotspots in Bulawayo, Manicaland, Matabeleland South, Masvingo, Midlands and Chitungwiza.
A key element of good quality HIV Care and Treatment is routine monitoring of a client's response to antiretroviral therapy (ART).  Through the Families and Communities for the Elimination of HIV (FACE HIV) program, a five year, $60 million activity funded by USAID, OPHID is one of the organizations advocating for viral load monitoring as a 'gold-standard' and as the preferred strategy to ensuring quality HIV care. A viral load test measures the amount of HIV in the blood and results alert the medical team on whether ARVs are working well on the patient. A result of less than 1000 copies/ml (undetectable) means that treatment is working well. Reducing one's viral load count to undetectable levels also means that one has a very low risk of developing drug-resistant HIV.
However, a detectable viral load (more than 1000 copies/ml) means the HIV virus is not being properly controlled by the current drug. When a client has a detectable viral load, health care providers often investigate the possible causes, of which one reason is often found to be non-adherence to ARV medicines. Viral load monitoring thus confirms whether HIV treatment is working and gives early indication of the need to strengthen client adherence to medication or to switch to more effective drugs (MOHCC, Operational and Service Delivery Manual, 2015).
Currently, USAID's FACE HIV Consortium, led by OPHID, is working with MOHCC to scale up viral monitoring for HIV positive patients on ART. In a phased approach, the nation is moving from providing targeted viral load of ill clients, to providing viral load as part of routine care. For the day to day management of clients, viral load monitoring would improve the quality and effectiveness of HIV care and treatment services immensely. Scaling up viral load monitoring is therefore key to the nation's ability to achieve the ambitious Global treatment targets of 90-90-90 (UNAIDS, 2014), where 90% of PLHIV will know their HIV status, 90% of people diagnosed with HIV infection will receive sustained antiretroviral therapy and  90% of people receiving antiretroviral therapy will have viral suppression (undetectable viral load) by 2020.
Be informed. Be knowledgeable. It is possible for Zimbabwe to end AIDS by 2030.