Wednesday, September 12, 2018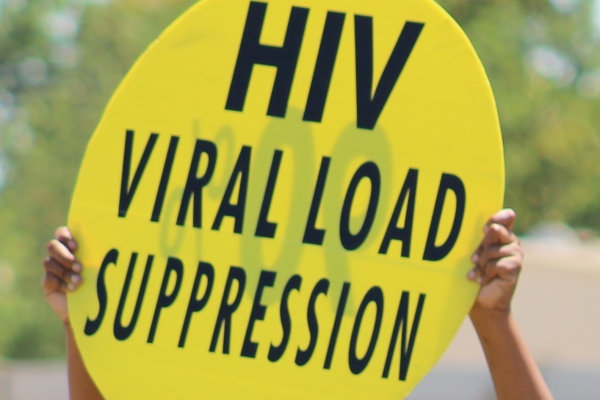 In Zimbabwe, there are over one million People Living with HIV who are currently receiving life-saving antiretroviral treatment (ART). This is one of the most exciting milestones for the nation in addressing the HIV pandemic. The next frontier is HIV viral load monitoring to assess the amount of HIV present in the blood of people living with HIV.
"Since starting treatment, the most exciting news I have heard is that I am now HIV undetectable. I am now confident that the treatment I am taking is working well to fight the HIV virus. This has given me strength to focus on my career and to fend for my family. As a mother of five children, I have to be healthy and strong", says 36 six-year-old Patricia Mpesa of Chitungwiza. She knows that by taking her antiretroviral medicines (ARVs) every day, at the right time, she can live a normal, healthy life with HIV.
Through viral load monitoring, all clients on ART can now know how well their treatment is working. A viral load test is done at six months and 12 months after starting ART, and annually thereafter.
With support from the United States President's Emergency Plan for AIDS Relief (PEPFAR) through the United States Agency for International Development (USAID), the Families and Communities for the Elimination of HIV (FACE HIV) Consortium, led by the Organisation for Public Health Interventions and Development (OPHID), is collaborating with the Ministry of Health and Child Care (MOHCC) to ensure provision of good quality HIV care services to all People Living with HIV across five provinces of Zimbabwe (Bulawayo, Matabeleland South, Manicaland, Masvingo and Midlands).
USAID's FACE HIV Consortium partners (OPHID, J.F Kapnek Trust and the Zimbabwe AIDS Prevention Project Trust) are working with the Ministry of Health and Child Care to increase demand for and provision of viral load testing services.
Chief of Party of the FACE HIV programme Patricia Mbetu says, "We are already seeing major progress. In the past two years, there has been a more than 200-fold increase in viral load samples collected from supported health facilities (from 169 samples in 2016 to 35,469 samples in 2018)."
What Viral Load Monitoring means to clients on ART
Viral Load monitoring services are available at all health facilities offering ART. This means clients do not need to travel far to get monitored and the service is offered as part of client routine HIV care.
A suppressed viral load (less than 1,000 copies/ml) result or "TND -Target Not Detectable" is good news. This shows that the treatment is working effectively, and the HIV virus is not detectable in a person's blood. A suppressed viral load is one of the most important goals for ART clients. Maintaining a suppressed viral load helps prevent HIV disease progression, prevents the development of drug resistance and prevents sexual transmission of HIV.
Clients like Mpesa, who achieve an undetectable viral load, will be congratulated and encouraged to keep taking their ARVs.
"Such stable clients are given more options of getting their ARV refills, which include being in a Community ART Refill Group (CARG), Fast Track option where one goes straight to the pharmacy to get their ARV supplies or three to six month supplies of ARVs", says FACE HIV Programme Technical Director, Dr. Talent Maphosa. To the client, this leads to fewer clinic visits and less time spent at the health facility.
But an unsuppressed viral load (more than 1,000 copies/ml of blood taken) may indicate poor treatment adherence. This happened to 23-year old Sharon, who is receiving her care at Chivi District Hospital. 
"I had my first viral load test in 2017 and results were 1,620 copies". Sharon had to go through Enhanced Adherence Counselling sessions-through which a trained counsellor helped her identify the causes of a high viral load.
 "I realised the importance of taking my ARVs. I was just taking them as and when I remembered. But now I am sticking to my time", says Sharon. She had a second viral load test after three months following the counselling sessions and her viral load result were "Target Not Detectable". Sharon is now receiving three-month supply of ARVs.
As viral load monitoring is becoming widespread, USAID's FACE HIV programme notes the need for a stronger focus on reaching more adolescents and young people, like Sharon, to understand the importance of accessing the service and receiving their results.
"Program data shows a lower uptake of viral load monitoring services by this group and higher percentage of clients with unsuppressed viral load", said Dr. Maphosa. "Because HIV treatment is lifelong, people living with HIV, especially children, adolescents and young people, need to be supported to take their drugs diligently and attend all clinic appointments, in order to attain and maintain viral load suppression".
Achieving viral suppression is a critical goal for all People Living with HIV. At the individual level, a suppressed viral load signifies a healthy person who cannot transmit the disease to others. At population level, achieving very high levels of viral suppression helps minimise AIDS-related deaths and greatly reduces new cases of HIV.