Written By:
Loveness Mlambo-Chimombe (OPHID)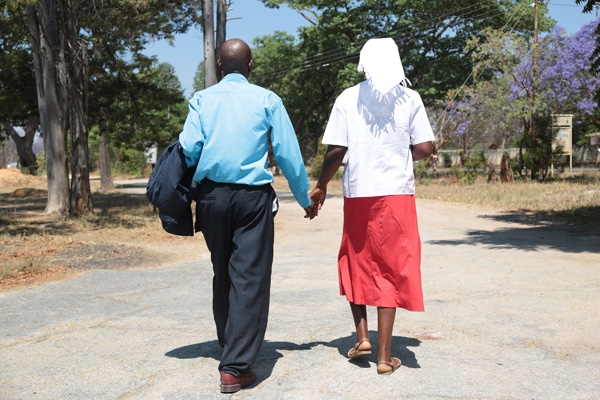 Without treatment, people living with HIV (PLHIV) can become ill because of the damage HIV does to the immune system. The 2015 World Health Organization (WHO) guidelines on HIV treatment emphasize the need to provide early treatment to everyone who is HIV positive. In Zimbabwe, the Organization for Public Health Interventions and Development (OPHID), working closely with the Ministry of Health and Child Care and with support from PEPFAR through USAID, has led the early implementation phase of the Treat All program in 7 districts (Makoni, Mutasa, Mutare, Chipinge, Gwanda, Bulilima and Mangwe). Through the Treat All initiative, everyone is being mobilised to know their HIV status and all PLHIV are being encouraged to 'Get on and Stay on treatment' to enjoy the benefits of Antiretroviral Treatment (ART).
Couple Speaks Out about 'Getting On And Staying On' HIV Treatment
"With Treat All, all HIV positive people can now get on lifesaving HIV treatment while they are still looking well and feeling strong, like us", says 43-year-old Biggie Joe from Rusape in Makoni district, in eastern Zimbabwe.
In September, Biggie visited Vengere Clinic complaining of chest pains. The clinic is among the 18 high volume sites that are being supported by OPHID under the FACE-HIV Care and Treatment Program. OPHID support includes recruiting and training Clinic Referral Facilitators (CRFs), who are People Living with HIV, to mobilise clients for HIV testing, provide peer counselling support, link clients to different service points and to support follow up of clients who miss clinic appointments.  
On his visit to the clinic, Biggie met Getrude Manhuwa, who conducted a pre-counselling session, highlighting the importance of knowing one's HIV status.
"I decided to take the HIV test, following the information I received from the CRF and the test result came out positive" says Biggie. "I took the advice from the nurse and brought my wife for HIV testing the following day".
 Supportive counselling from CRF Manhuwa prepared the couple to make the right decision to get on HIV treatment.  'It was not an easy decision to make, given that we had just found out that we have this virus that everyone is so afraid of", added Biggie. The couple started taking ARVs after attending three adherence counselling sessions.
Getting and Staying on Treatment.
Biggie and his wife were inspired by the experience shared by Manhuwa that she has been on treatment for more than 20 years. "The CRF made me realise that ARVs will not change who I am. In fact, they can make me stronger and healthier. I am looking forward to seeing my 10-year-old son grow up and get to University", says Biggie's wife, Shingai Nyamayevana.
She added that getting on treatment together was the best decision they have made in their relationship. Their advice to other HIV positive couples is that: "Your spouse/partner is the closest person who should be supporting and reminding you to take your ARV medicines. Hiding ARVs from your partner always ends up badly."
In Makoni district, health facilities started offering Treat All in July 2016. By the end of September, 992 new clients who include Biggie and his wife, were initiated on ART from the 18 sites that OPHID supports. Early experiences also show that Treat All has doubled the number of clients accepting ART on the same day. Through Treat All, all clients who had a CD4 count of more than 500 and were previously not eligible are now being brought back into care and initiated on lifesaving ART.