Thursday, December 10, 2020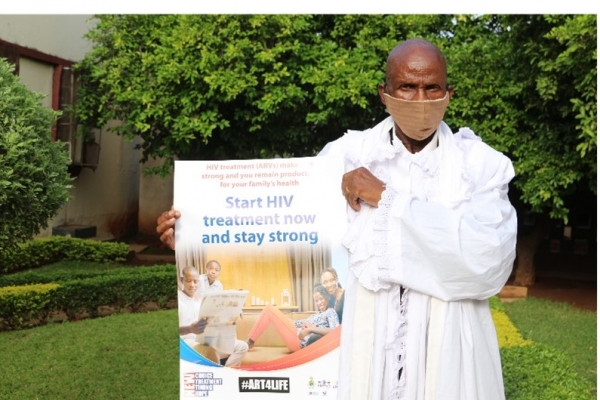 Faith-based organizations (FBOs) play an important role in HIV epidemic control through their strong links with communities and their broad networks. Although many factors affect adherence to ART medicines, reports from the community indicate that claims of "faith healing" or "miraculous healing of HIV" are a major stumbling block towards reaching the 95-95-95 global goals towards HIV control. Thus, OPHID with support from PEPFAR through USAID, engaged 20 faith leaders in Gwanda from different Apostolic Sects throughout Matabeleland South Province in Zimbabwe.
The community sensitization meeting emerged following the development of Faith and Community Initiative materials to communicate New Messages of Hope and Justice for Children. The materials co-designed by OPHID and other stakeholders and implementing partners, paved way for the discussions on how it is critical for religious leaders to develop 'life-giving' theologies that promote HIV adherence among their congregants.
Matabeleland South is a migration corridor and the engagement with faith leaders becomes very strategic in addressing such structural factors which have long been associated with the spread of HIV. Through this meeting, OPHID and its implementing partner ZNNP+ together with Union for the Development of Apostolic and Zionist Churches in Zimbabwe Africa (UDACIZA), took the opportunity to share the New Messages of Hope and Justice for Children material. Furthermore, OPHID facilitated discussions on the role of faith leaders for ensuring that their congregations access core health services such as cervical cancer screening and treatment, gender-based violence, prevention of mother-to-child transmission (PMTCT), viral load testing.
It was also emphasized that faith leaders have a key role in supporting and counselling their congregants and members to adhere to their medicines. "The Apostolic Sect contributes to 32% of the population here in Zimbabwe and as leaders we should use our "influence" to break the silence surrounding HIV/AIDS, shape social values, promote responsible behaviour. Each one of us here plays a pivotal role in HIV epidemic control and we should set an example in our communities" said Rev Innocent Chitanda, UDACIZA Programs Manager in his presentation. 
During the meeting, OPHID Technical Director. Dr Pugie Chimberengwa took the opportunity to introduce OPHID's new program supported by PEPFAR through USAID. TASQC (Target, Accelerate and Sustain Quality Care for epidemic control is aims at strengthening the standard package of care delivered from facilities to community service delivery points.
The program is set to benefit all individuals, families and communities affected by HIV, as well as support targeted acceleration of quality HIV prevention, care and treatment services at facility and community level in 24 priority districts and Mat South, Chitungwiza, Masvingo and Bulawayo. In his closing remarks Dr Chimberengwa emphasized the need for close collaboration between the organization and faith leaders to ensure that no one is left behind in OPHID's quest for HIV epidemic control.