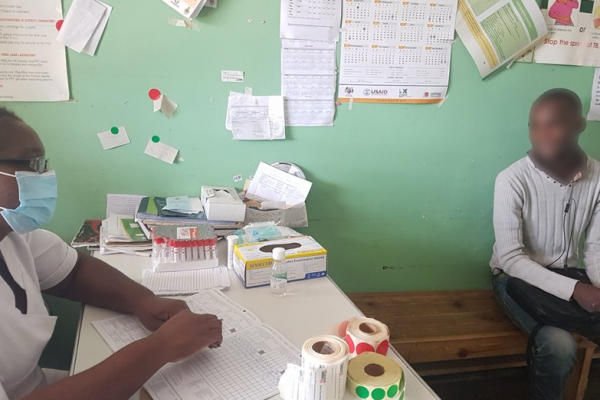 Located in Eastern Highlands of Zimbabwe in Mutare Province, Sakubva Clinic a is a high-volume site with a total of 4 784 clients on Anti-Retroviral Therapy (ART). After the COVID -19 outbreak the clinic had been failing to cope with the high number of clients. There was only one OI/ART nurse working at the facility and due to lack of personal protective equipment (PPE) some of the nurses were failing to deliver services fearing contracting the COVID-19 disease. However, the clinic received PPE in the form of hand sanitizers, face masks, latex gloves and paper towels from Organization for Public Health Interventions and Development (OPHID) to ensure the continued flow of work in the OI/ART Clinic. In addition, OPHID delivered a consignment of handwashing stations to health facilities across Zimbabwe. Sites including Sakubva Clinic received 20L buckets, wash basins, liquid soap and IEC posters about handwashing in local languages
Under the FACE HIV Program funded by PEPFAR/USAID, OPHID in partnership with the Ministry of Health and Child Care (MOHCC), is strengthening the provision of quality HIV prevention, care and treatment services, even during the COVID era.
"After receiving the consignment, we have been maintaining social distancing and allowing two clients in the waiting area. With the help of an OPHID Human Resource for Health (HRH) nurse and another one from Mutare City Council, we have managed to decongest and reduce    waiting time for clients. We have also been practicing multi-month dispensing of ARV medicines, giving a maximum of 6 months supply to avoid frequent travel."
"However, we have noted a decrease in clients residing outside Sakubva, which has been attributed to transport challenges and it has become a major concern to us. Despite this challenge, we are so grateful that we have managed to offer continued service to the clients even during these difficult times," said Victoria Zvirahwa, the Sister-in charge at Sakubva Clinic.