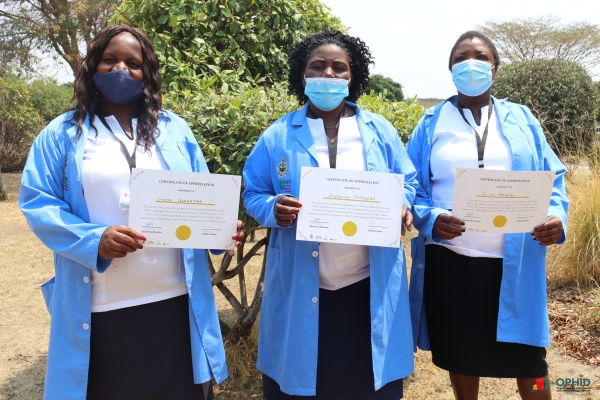 Globally, lay health workers deliver a wide range of interventions in different communities ranging from nutrition, maternal and child health, primary health care, malaria, tuberculosis, and HIV/AIDS epidemic control. In most areas these trained cadres are the conduit between the clinic facility and the community and they offer bidirectional referrals and support to clients. The contribution of these dedicated cadres is very important but often ignored.  Thus, Organization for Public Health Interventions and Development (OPHID) honored 398 Clinical Referral Facilitator (CRFs) by presenting them with certificates of appreciation under the Families and Communities for the Elimination of HIV (FACE-HIV) Program.  
With support from PEPFAR through USAID Zimbabwe, OPHID in partnership with JF Kapnek collaborated with the Ministry of Health and Child Care (MOHCC) to provide quality HIV, Prevention of mother-to-child transmission (PMTCT) of HIV, TB care and treatment services in 24 districts across 5 provinces of Zimbabwe. The program aimed at reducing new HIV infections and HIV-related morbidity and mortality and improve quality of life for all People living with HIV (PLHIV) and the CRFs were very instrumental in strengthening  linkages for improved adherence and retention of people living with HIV (PLHIV).
Since the program inception in 2015 CRFs oversaw receiving clients at the OI/ART Clinic and offer psycho-social support and counselling services. Some of their roles included:
Continuous counselling for PLHIV
Supporting PLHIV to adhere to their treatment and remain in care
Navigating clients from HIV testing points and link them to treatment
Providing health education on comprehensive HIV Care and Treatment
Motivating clients enrolled into the PMTCT, HIV Care and Treatment to disclose.
Linking facility and community-based cadres (including VHWs) to support outreach services to clients in the community.
Supporting communities to form and maintain support groups for PLHIV (including specialized support for Mothers and children, as well as for Adolescents)
With the support of CRFs, 523 000 PLHIV in Zimbabwe have received quality HIV prevention, treatment, and care services. Speaking at the certificate handover ceremony in Chitungwiza District, one of the CRFs Linda Ngerenge (39) from Seke South Clinic said " When I joined OPHID in 2017, I had one goal, to serve the community and share knowledge on HIV and healthy living. Now that the program has come to an end, I am proud that I have managed to change the lives of many people living with HIV. To me it is a huge accomplishment," she narrated with a huge smile.