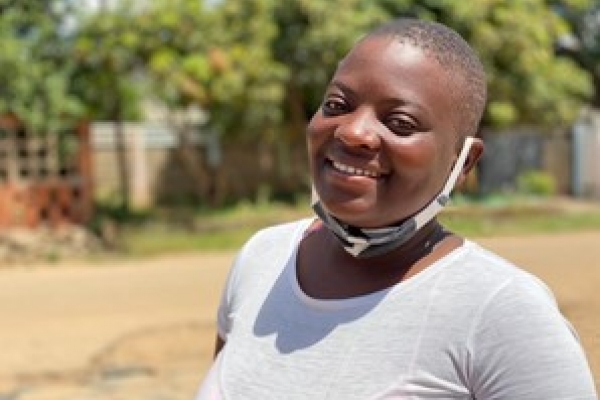 It is a sunny Tuesday around midday in Chitungwiza a small-town South East of Harare. The Zengeza 5 shopping centre is busy as usual, people walking in and out of the supermarkets, others are gathered at the community borehole fetching water while vendors are arranging vegetables at their stalls. Ottiliah Nenguwo (23) a member of the Johanne Masowe Apostolic Sect is coming from the Tuesday Women's Fellowship at church, she passes through the shopping centre and hears a voice speaking on a public address speaker talking about free "HIV services" being offered at the shopping centre.  She stops for  a moment and walks briskly towards the blue tents to see the type of services being offered.
"I made a decision to get tested for HIV because I last had an HIV test 3 years ago. I am a tailor working here at the shopping centre and honestly, I am just too busy to visit the nearest clinic to get tested. I have a business to run and clients to attend to, so going at the clinic and queuing would take much of my time. I am glad today I got tested for HIV, booked myself for cervical cancer screening and got health education on how I can protect myself. I tested negative, and now that I know my status, I am really determined to take care of my health. Thank you for bringing these services to the people especially during this COVID-19 era. It' so convenient, most people miss their routine check-ups because they can't take time off their busy schedules. Times are hard people are trying to make ends meet and provide for their families," said Otilliah 
With Support from PEPFAR through USAID Zimbabwe, OPHID has been implementing community outreaches under the Target, Accelerate and Sustain Quality Care (TASQC) for HIV epidemic control Program in partnership with JF Kapnek Trust and Zimbabwe National Network of People Living with HIV (ZNNP+). Under TASQC, OPHID and its partners support targeted acceleration of quality HIV prevention, care and treatment services at facility and community level in 15 priority districts in Chitungwiza, Masvingo, Bulawayo and Matabeleland South.
The community outreach approach is an innovative and adaptive action to reach vulnerable, at-risk populations and ensure that no one is left behind by providing a "one stop" for HIV Testing, Viral Load screening, TB Preventive Treatment (TPT), index case testing and cervical cancer screening in hard-to-reach areas. In the last 4 weeks in Bulawayo, Chitungwiza, Mat South and Masvingo 1115 people were tested for HIV, 184 tested positive (17% yield), 161 were initiated on ART (88% ART Coverage), 385 HIV self-test kits were distributed, and 985 women were screened for cervical cancer.