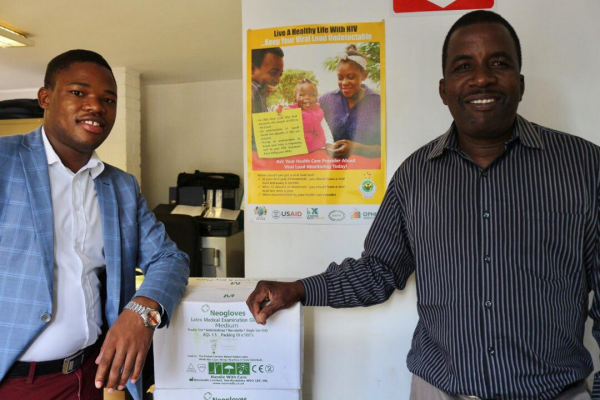 On March 11, 2020, The World Health Organization (WHO) declared the novel coronavirus (COVID-19) outbreak a global pandemic. The outbreak started in Wuhan, Hubei Province, China and has spread drastically to other countries. Globally, it is estimated that more than 80,0000 lives have been lost to date due to the respiratory disease. People have been on lockdown, in self-isolation and preventing any form of interaction.
There has been growing concern over the need to provide Personal Protective Equipment (PPE) to the frontline workers (doctors and nurses) who are at the forefront of the response These essential workers have been risking their own lives to keep the nation healthy. Today, we celebrate our own "unsung heroes" who have been working round the clock to ensure that PPE is delivered to the health care workers across our supported districts. Meet Willard Feremenga the Transport and Logistics Officer and Nesbert Mushayanembwa the Procurement and Logistics Assistant at Organisation for Public Health Inventions and Development (OPHID).
With support from USAID/PEPFAR, OPHID has so far distributed PPE in supported health facilities, mainly targeting Bulawayo, Gwanda, Beitbridge, Mangwe, Plumtree, Matobo, Beitbridge, Umzingwane and Insiza Districts. This was only made possible by Willard and Nesbert who worked tirelessly, liaising with suppliers and transporters to make sure that PPE, sanitisers, tissues and toilet paper reach the health facilities. Whilst others were on lockdown working from home, the two never stopped coming to work and sourced the now hard to find PPE. 
"The process was challenging because most of the service providers are closed due to the lockdown and prices were fluctuating daily because of high demand. However, we kept running around to ensure that health care workers receive the much-needed equipment. We managed to reach out to courier service providers within the shortest possible time, as we needed to be very time sensitive on this matter. After that we negotiated for good prices, having in mind value for money while allowing enough lead time to reach our facilities," said Nesbert.
To date, OPHID has distributed 3 360 latex gloves, 1 737 hand sanitizers, 5 100 rolls of paper towels, 6 720 rolls of toilet paper and 647 five litre bottles of liquid soap.
After the procurement was finalised, the team liaised with NatPharm on the timely issuing of the goods. "Due to shortages of labour during this lockdown, we had to pack the PPE together with the team from the courier services.   This was a challenging task that made us think outside the box in order to be responsive to COVID-19," said Willard with a huge smile.
PEPFAR has pledged to use $150,000 (USD) to help with COVID-19 prevention measures in Zimbabwe, specifically targeted at people living with HIV. OPHID and other implementing partners will carry out the activities. This move is set to strengthen health systems, so that Zimbabweans can live longer, healthier and happier lives!