Wednesday, December 5, 2018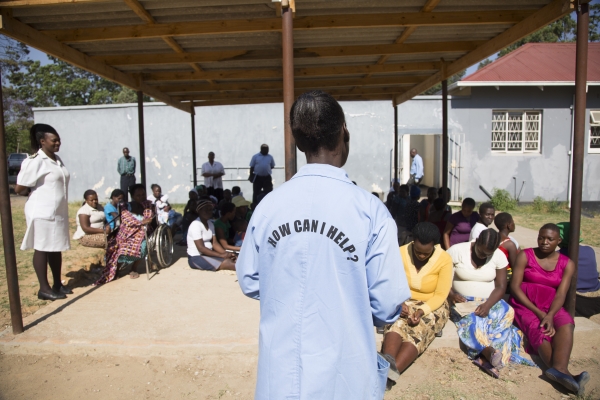 It's early morning -730am at Seke South Clinic in Chitungwiza. Bridget (19 years) sits at the end of a hard-wooden bench, listening to a middle aged woman wearing a blue coat written "How can I help?". In her mind, she thinks this could be the person she can talk to. All the nurses (and even the nurse aids) look extremely busy, focused on the piles of registers and forms.
The lady in the blue coat introduces herself as a Clinic Referral Facilitator. Her role at the facility is to help people know what HIV prevention, care and treatment services available. She is telling people why they should be tested for HIV. She says that people can be tested by a nurse or primary counsellor, but also that there is a new service where people can test themselves using an HIV-self-test kit. As someone who has never had an HIV test, Bridget feels she could be more comfortable taking the test on her own, in the enclosed cubicle placed at the far end of the waiting room- where no one is watching.  
The Clinic Referral Facilitator also highlighted that if one tested positive today they would be started on life-saving treatment immediately. This is a relief, as Bridget has so often heard that people had to wait for treatment. The Clinic Referral Facilitator ends her talk by pointing out the various service points.
Bridget opts for the HIV self-testing. Within 20 minutes, Bridget has the results of the HIV test and proceeds to access other services within the clinic.
Through the support from PEPFAR and USAID, OPHID-FACE HIV Care and Treatment Program has integrated HIV Self Testing in supported public health facilities. From August 2018, the FACE-HIV consortium has supported training of 85 health care providers and lay cadres to offer HIV Self testing.
OPHID-FACE HIV Chief of Party, Ms Patricia Mbetu applauds the integration of HIV Self Testing within the public health system as an alternative to nurse/primary counsellor delivered testing. "The model has potential to increase testing coverage, especially reaching people who have never tested before or are reluctant to be tested by a health care provider, thereby closing the HIV testing gap", says Mbetu.
The journey that one takes after taking an HIV Self-Testing Kit can be different from Bridget's. "It's important for the self-testers to get a confirmatory test when they get a positive result, and this is performed at the facility by either a nurse or a primary counsellor", adds Ms Mbetu,
Availability of Clinic Referral Facilitators helps ease the process of linking clients who test HIV positive to confirm their status and access Antiretroviral Treatment (ART).