Wednesday, August 5, 2020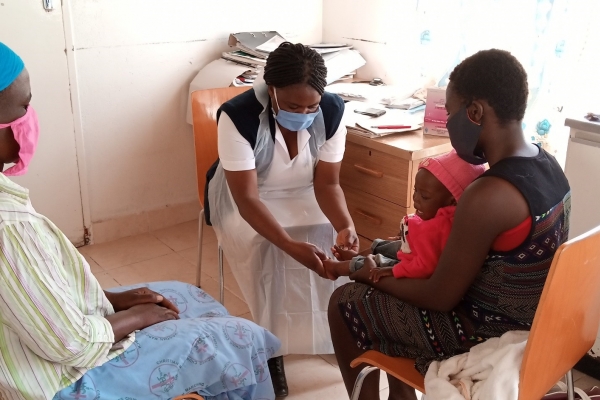 Mothers, especially those informally employed in urban areas, are finding it difficult to work and earn money to look after their children due to COVID-19 induced travel and movement restrictions, which is exacerbating the existing vulnerabilities to malnutrition for children under 5. This is the story of Chiedza and baby Caroline (not their real names)
During the COVID19 pandemic, Zimbabwe is suffering from consecutive droughts and a prevailing economic crisis characterized by high inflation of prices for basic food stuffs. Malnutrition among those children under five years old is on the increase. The Organization for Public Health Interventions and Development (OPHID) implements the UNICEF emergency response project which seeks to make sure that every child in Makoni District is actively screened for malnutrition and those identified with acute malnutrition are referred to the nearest health facility for management of malnutrition, HIV and TB screening.  This is achieved through support, mentoring and capacity building for Health Care Workers, Village Health Workers and Health Centre Committee members for growth monitoring, referral and follow up and management of all children identified with acute malnutrition.
On a support visit to Katsenga Clinic in Makoni district OPHID's Project Assistant met a young 20-year-old single mother, Chiedza, whose 20-month-old daughter was suffering from severe acute malnutrition with Grade 2 edema. Chiedza explained that she was brought up in Makoni District by her uncle, her mother's brother. Her own mother is in Botswana and she never knew her father.  She described how she went to Harare to look for a job while she was pregnant. She had no husband to support her and after delivery, she had to leave baby Caroline with neighbours while she went to work as a maid, returning home to the baby in the evenings. However, due to the COVID-19 pandemic, which started in March 2020, she lost her job and opportunities for making money became scarce and she could hardly buy food for her baby. Chiedza realized that baby Caroline had become sickly and as the condition worsened, she turned to her uncle for help and he called her back home to Makoni. On arriving in her rural village, her aunt realized that baby Caroline was very malnourished and consulted the Village Health Worker who gave her a MUAC tape to assess the baby for malnutrition. The MUAC measurement indicated that the baby was severely malnourished and the Village Health Worker referred the mother to the clinic. Her aunt accompanied Chiedza to take the baby to the clinic.
At the Katsenga clinic, two nurses who had received mentorship and support through the UNICEF humanitarian emergency response project attended to the malnourished child. The nurses performed an appetite test on the child who was able to finish a quarter of a sachet of plumpynut and was put on treatment of two sachets per day. The nurses tested the child for HIV and screened her for TB. The results were negative in both instances and her chances of recovery from severe acute malnutrition was good, she would be able to be treated as an outpatient. The nurse explained to the mother that she should ensure that her child finishes the two sachets of plumpy nut per day as prescribed. Chiedza was given enough plumpynut for two weeks and told to return for more supplies when it is finished so that they could also reassess baby Caroline. The OPHID Project Assistant also explained to Chiedza that the child should take the plumpy nut with plenty of safely boiled water. Chiedza's aunt, who had accompanied the young mother to the clinic, offered to provide support and make sure that the child takes the prescribed plumpy nut until she recovers. Chiedza was so grateful for the help she was given at the clinic, she said "If I had stayed in Harare I would have lost my baby, my aunt and uncle have helped me so much and now the nurses have treated Caroline and my baby has been saved".
During this Katsenga clinic support visit, the OPHID Project Assistant had an opportunity to witness and evaluate the positive impact of the Health Care Workers and Village Health Workers mentoring meetings in which he had advocated and supported active screening, referral, HIV and TB screening for under 5 children with acute malnutrition. An important part of the successful outcome for baby Caroline is also the community-facility linkage, which has the potential to reduce under 5 child morbidity and mortality due to malnutrition during the prevailing humanitarian crisis.