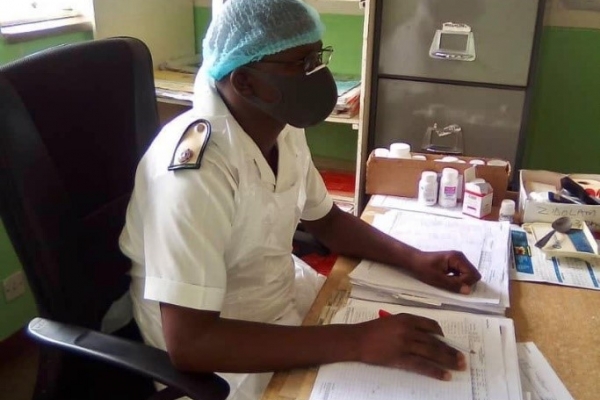 Against the background of a world gripped by COVID-19, we celebrate the frontline workers fighting the pandemic and providing essential services to people living with HIV. Meet John Kananzwa (38) a nurse at Nkulumane Clinic in Bulawayo. Kananzwa is one of the many front-line nurses fighting COVID-19 under the Families and Communities for the Elimination of HIV (FACE HIV) Programme. This initiative is being implemented by Organisation for Public Health Interventions and Development (OPHID) with support from USAID/PEPFAR.  This is his story!
"As a nurse I am proud that we continue providing the much-needed essential services to our clients during these difficult times.  As health workers, we had so many fears due to the outbreak of COVID-19. We were not sure how we were going to manage case flow, raising calls for improvement in flow of information in times like these. Thanks to OPHID, we have received overwhelming support through personal protective equipment (PPE) and work has been made easier.  My greatest fear is being infected at work and spreading the virus to family members, but I am also practicing safe hygiene.  We have been oriented by the Ministry of Health and Child Care (MOHCC), on guidelines on case definition, management and infection control, which is key in protecting us in the fight against COVID-19. The community is starting to have an appreciation of COVID-19 by taking heed of our calls to practice hand and cough hygiene," said Kananzwa.
With support from USAID/PEPFAR, OPHID is boosting the capacity of health facilities across 24 districts of Zimbabwe to provide HIV care and treatment services, as an essential service to people living with HIV during this COVID-19 Lockdown period.  As such, in collaboration with the MOHCC, health facilities have been capacitated to provide 3 months' supply of ARV medicines.
 "Currently, we have seen huge traffic of clients coming to stock up their ART medicines. However, the clients have raised concern on shortage of transport, since most operators are not operating. In future I really call for simulations in handling pandemics even at primary care level as this will help in preparedness. As a nurse, I took an oath to protect the health of citizens and will continue doing so using PPE to manage in this COVID19 environment," said Kananzwa.