Wednesday, August 2, 2017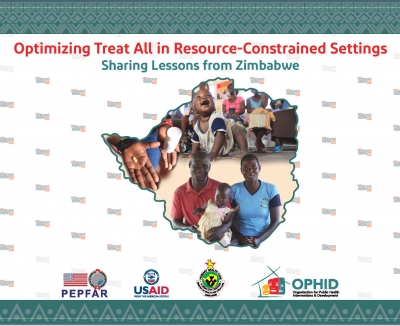 The U.S. government announced data at the 2017 International AIDS Society Conference on HIV Science that through support from the U.S. President's Emergency Plan for AIDS Relief (PEPFAR) four African countries, including Zimbabwe, are approaching control of their HIV epidemics.
Ground-breaking new PEPFAR data show that the HIV epidemic is coming under control across all age groups in Swaziland, the country with the highest HIV prevalence in the world. Additional PEPFAR-supported studies released in December 2016 for Malawi, Zambia, and Zimbabwe also demonstrate significant progress toward controlling the HIV epidemics in these countries.
As a key partner to the Ministry of Health and Child Care, OPHID, through support from PEPFAR and USAID, is supporting provision of quality HIV care and Treatment, PMTCT and TB services in 5 provinces of Zimbabwe. OPHID is proud to be associated with Zimbabwe's progress towards controlling the HIV epidemic.
At the just ended 2017 International AIDS Society, OPHID and the MOHCC co-hosted the Treat All Satellite session and shared lessons learned from implementing Treat All initiative in a resource constrained setting like Zimbabwe. The lessons have also been packaged into a Toolkit, series tools to help improve HIV testing, care and treatment under HIV test and treat "Treat All".
Visit our Evidence for Impact section to access abstracts and presentations made at IAS 2017 and the Treat All Toolkit is available on: http://www.ophid.org/evidence-impact
More information on countries' progress in controlling HIV epidemics available on: 
Department  Media Note:  https://www.state.gov/r/pa/prs
/ps/2017/07/272816.htm
Press release: https://www.pepfar.gov/press/r eleases/2017/272788.htm
Fact sheet: https://www.pepfar.gov/documen ts/organization/273047.pdf