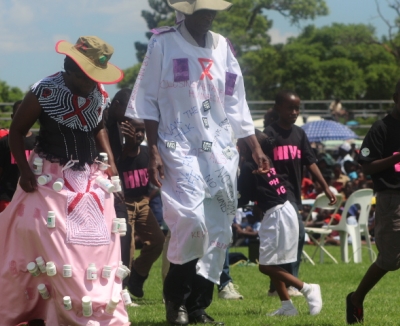 On December 1st, the world commemorates World AIDS Day. Zimbabwe, like many other Southern African countries, have experienced the burden of the epidemic. However much as changed since the first World AIDS day in 1988, and as a nation, Zimbabwe can proudly commemorate the milestones it has achieved toward epidemic control. Ongoing advocacy, technical and financial support and improved access to lifesaving anti-retroviral treatment have made this possible. In 2017, World AIDS Day is about keeping the momentum, enhancing prevention, and ensuring the right to health for all.
In Zimbabwe, the Organization for Public Health Interventions and Development (OPHID) is proud to be associated with the achievements of the national HIV response. Since 2000, OPHID has been a technical partner of the Ministry of Health and Child Care (MOHCC). The organisation has supported the roll out of the Prevention of Mother to Child Transmission of HIV program to all 1,560 health facilities across Zimbabwe.
The Ministry of Health and Child Care (MOHCC) reports that 90 % of new HIV infections in children is through mother to child transmission of HIV. However, this can be prevented when couples appreciate the importance of knowing their HIV status, and are tested for HIV early during their pregnancy. With access to treatment, 95 percent of women living with HIV in Zimbabwe are giving birth to HIV free babies.
While Zimbabwe is on the right path to achieve the goal of eliminating mother to child transmission of HIV (eMTCT), momentum needs to be maintained. In particular, we need to reach out to younger women and men who may not yet know their HIV status, and the risk of transmission.
Significant progress has also been achieved in reaching the general population of People Living with HIV (PLHIV). In 2016, Zimbabwe embraced the new guidance from World Health Organization to provide Antiretroviral Therapy (ART) to every person diagnosed HIV positive, regardless of CD4 count or WHO staging. "Treat All" – or the Universal access to treatment, has been rolled out to all facilities, with health care providers adapting client centred models of care to ensure that the diverse treatment needs of all People Living with HIV are met.
"With a million People Living with HIV now on treatment, OPHID's priority focus is on supporting national efforts to reach the third 90- sustained viral suppression, through adherence and retention in care", says OPHID Country Director, Barbara Engelsmann.
OPHID support towards Zimbabwe's HIV care and treatment goals
With financial and technical support from the U.S President's Emergency Plan for AIDS Relief (PEPFAR) through the United States Agency for International Development (USAID), OPHID's Families and Communities for the Elimination of HIV (FACE HIV) Programme prioritizes:
Human resources support in form of OI/ART nurses, primary counsellors and lay counsellors for provision of HIV testing, treatment and care services.
implementation of district specific strategies to increase service uptake and quality in the 24 districts, across 5 provinces -Bulawayo, Matabeleland South, Manicaland, Masvingo, Midlands.
Implementation of differentiated service delivery models for HIV testing, treatment and care services.
Mentorship to health care providers to use facility data to implement targeted interventions to reach different age groups.
With our combined expertise and the dedication of our teams, we believe that the End of AIDS is near and a New Generation free of HIV and Syphilis is within reach. OPHID joins Zimbabwe and the World in commemorating World AIDS Day, counting the gains of the elimination of Mother- To- Child Transmission of HIV programme, and celebrating the fact that HIV treatment saves lives.