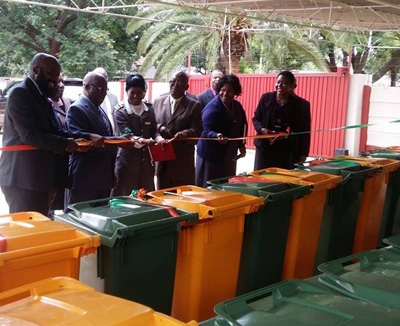 Quality Care is Safe Care. Minimizing the risks of infection is key to ensuring safety in health care settings. OPHID, with support from PEPFAR through USAID, handed over 130 litre bins to the Ministry of Health and Child Care. The bins have been procured for 3 provinces- Bulawayo, Matabeleland South and Manicaland, to promote proper waste segregation and disposal at the 171 supported health facilities:
- green for non-contaminated waste such as plastic materials, paper,
- yellow for clinical waste which is biohazardous such as human tissue
- red for plastic clinical waste which is infectious such as catheters, syringes and tubes
The Mpilo Chief Executive Officer appreciated the fact that the bins are colour coded and this will reduce chances of waste being found in the wrong areas. He acknowledged OPHID for the various trainings/sensitizations and support in strengthening waste management systems.